Thai-Style Spicy Mussels
Last week was "classic" mussels, let's mix it up with a not-so-classic Thai style –  a little One Night in Bangkok after your April in Paris.  A little sweet, a little spicy - coconut milk, pineapple, fresh ginger, lime and hot hot serrano peppers – what's not to love….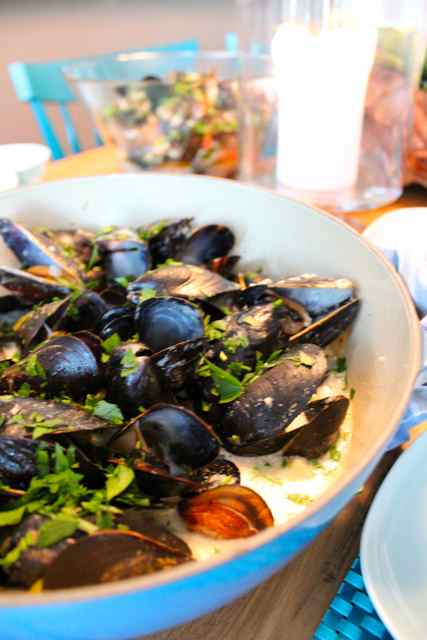 Sauté chopped shallot, fresh ginger and serrano peppers in a bit of oil in a big pot or dutch oven.  Add one can coconut milk and the juice from a can of pineapple chunks.  Chop up the chunks a bit and add to the pot.  Add zest of a couple limes.  De-beard and steam mussels in your broth of awesomeness until just opened.  Turn it all into a dish (or serve in the dutch oven, as above) and garnish with chopped cilantro.
p.s. you can see the "classic" mussels from last week's post in the background – we did a 2fer
Classic Steamed Mussels with Buttered Crusty Bread
This one's easy as all get-out (well, mostly) and a real crowd pleaser.   The 'mostly' refers to de-bearding the mussels which can take some time. Otherwise a snap.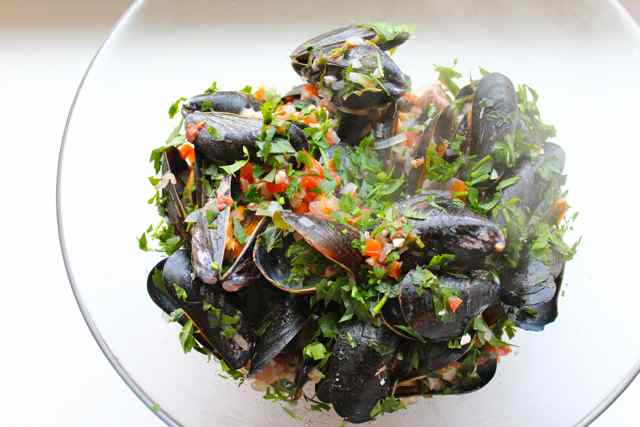 In a pot or dutch oven, lightly sauté chopped shallot and garlic in a nice pour of olive oil and a good knob of butter.  De-beard your mussels while this cooks for a bit over low heat – no browning.  Then a good pour of white wine and a handful of seeded chopped plum tomatoes.   You could also add cream now, which is traditional.  I skipped to keep it a touch lighter, we didn't miss it.  Mussels in – steam until just opened.  Turn the whole thing into a bowl and garnish with a good throw of chopped parsley.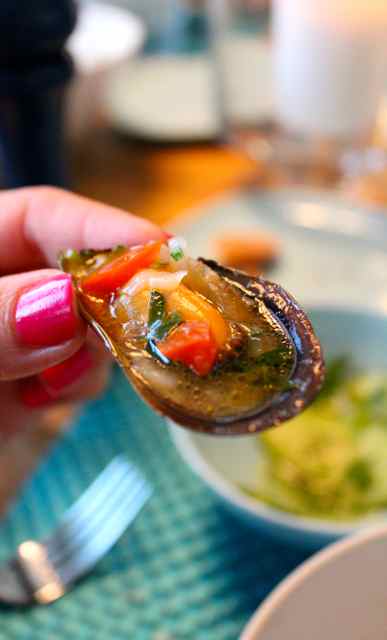 Serve with a nice crusty bread slathered with some good European butter. And bring an extra bowl to the table for the shells.   
Shrimp and Crab Enchiladas
A great addition to Taco Night — soft corn tortillas stuffed with shrimp, lump crabmeat and melted spicy jack cheese, all topped with red and green chili sauce …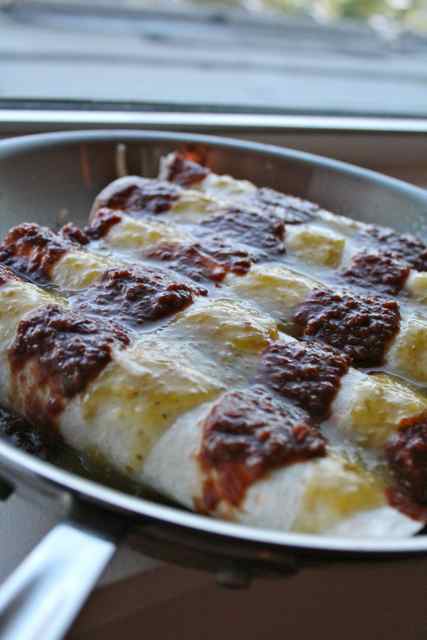 Toss shrimp with some olive oil, garlic powder, salt, pepper and a touch of cumin.  Sauté briefly on high heat, cool and chop.  Add equal part crab meat, then some shredded pepper jack cheese and a bit of mayo to bind it all together.  Stuff into corn tortillas and roll.  Line up in pan, top with chili sauce and some more shredded cheese. Into a 375º oven until cheese is melted and bubbling, maybe 15 mins or so.   
Ready for the oven: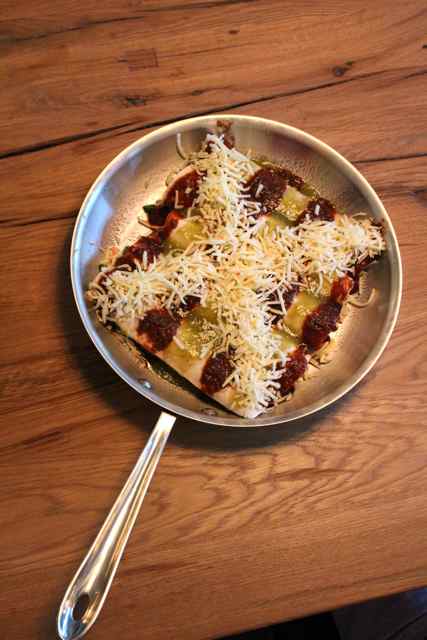 Dig on in …