Truffled Edamame Dip
Edamame.  With earthy funky truffles.  In dip format…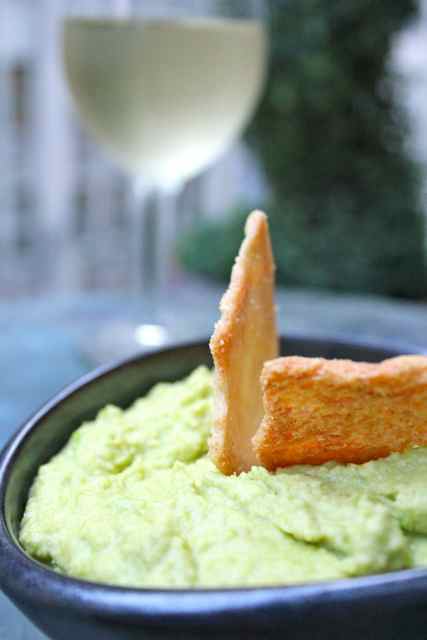 Edamame steamed in an half inch of boiling water.  Shelled, into processor with a splash of the steaming water, S&P.  While processor is running, drizzle in some olive oil until it's a nice consistency.  Then a bit of fresh squeezed lemon juice and a pour of truffle oil.   Taste- add more salt/lemon/truffle oil as needed.  
Pita chips, chilled Grüner Veltliner.  Hey now. 
The Audition Plate
The recent audition (no word yet….) required a plated savory dish.   I was going for three things — first, there was no kitchen at the studio so I wanted to serve something that was tasty while unheated.  Second –   it had to look pretty.  And third, I was going for a little edge.  So here's the result: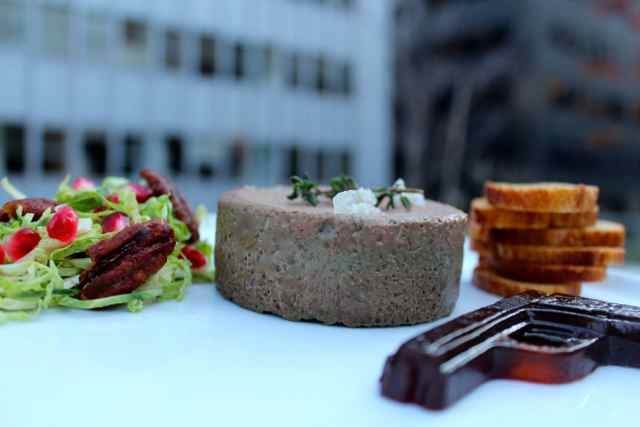 Chicken liver mousse, garnished with crunchy grey sea salt and a fresh thyme sprig.  Raw shaved brussels sprout salad with pomegranate arils and candied spicy pecans, lightly dressed with a mustard vinaigrette. Crisp toasted baguette rounds.  And finally a pomegranate gelée molded into a tiny Glock 9 mil. pistol – a little sour/sweet note to take out those rich livers.  
So yes – I essentially served chicken livers, raw brussels sprouts and an inappropriately-shaped jello.   Risky much? 
Maddie's Favorite Chicken
The Tot loves this.  And super-simple too.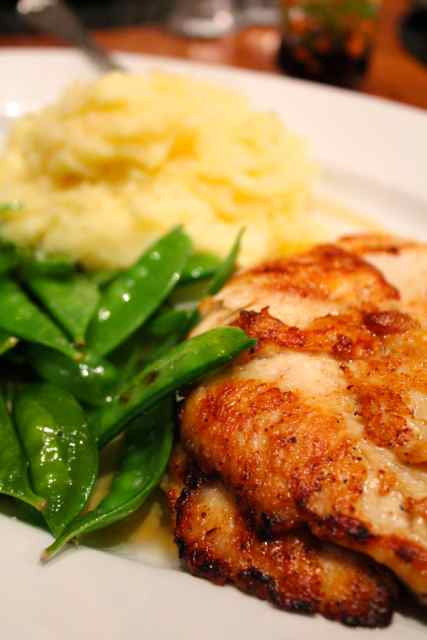 Boneless skinless chicken breast, pounded thin with a meat mallet.  Cover with a freezer bag or a triple layer of plastic wrap before pounding — prevents raw chicken from flying everywhere.  
Drizzle with canola oil, sprinkle generously with salt, pepper and garlic powder.  Into screaming hot pan, flip when browned.   Add a knob of butter into the pan just before chicken is cooked through, baste with a spoon.   And that's it.