Blistered Shishitos, Chilled Oysters and the Perfect Cocktail Sauce
Here's an appy course to rock your New Year.  Pour a nice glass of cold Sancerre.  Fire up some blistered shishitos, tossed with some S&P and a bit of garlic powder.  Shuck a fat icy plate of chilled oysters — maybe some Bluepoints and Montauk Pearls.   And however gauche, I'll still own me a touch of spicy cocktail sauce….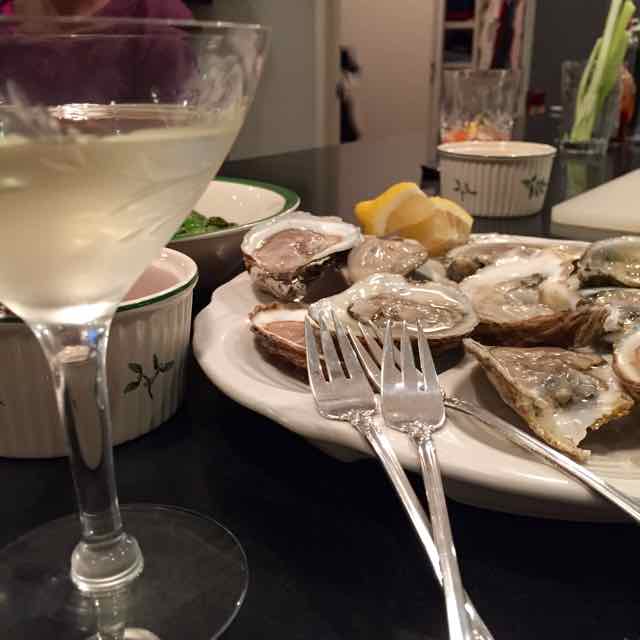 The perfect cocktail sauce- you don't buy it.  Two good squeezes of ketchup.  Juice from a quarter lemon.  Spoonful or two of hot horseradish. A few drops of Worcestershire, and a couple three shakes of Tabasco. Taste and adjust to your liking.  
Blistered shishitos go surprisingly well alongside oysters.  If you don't recall the shishito gig, click here.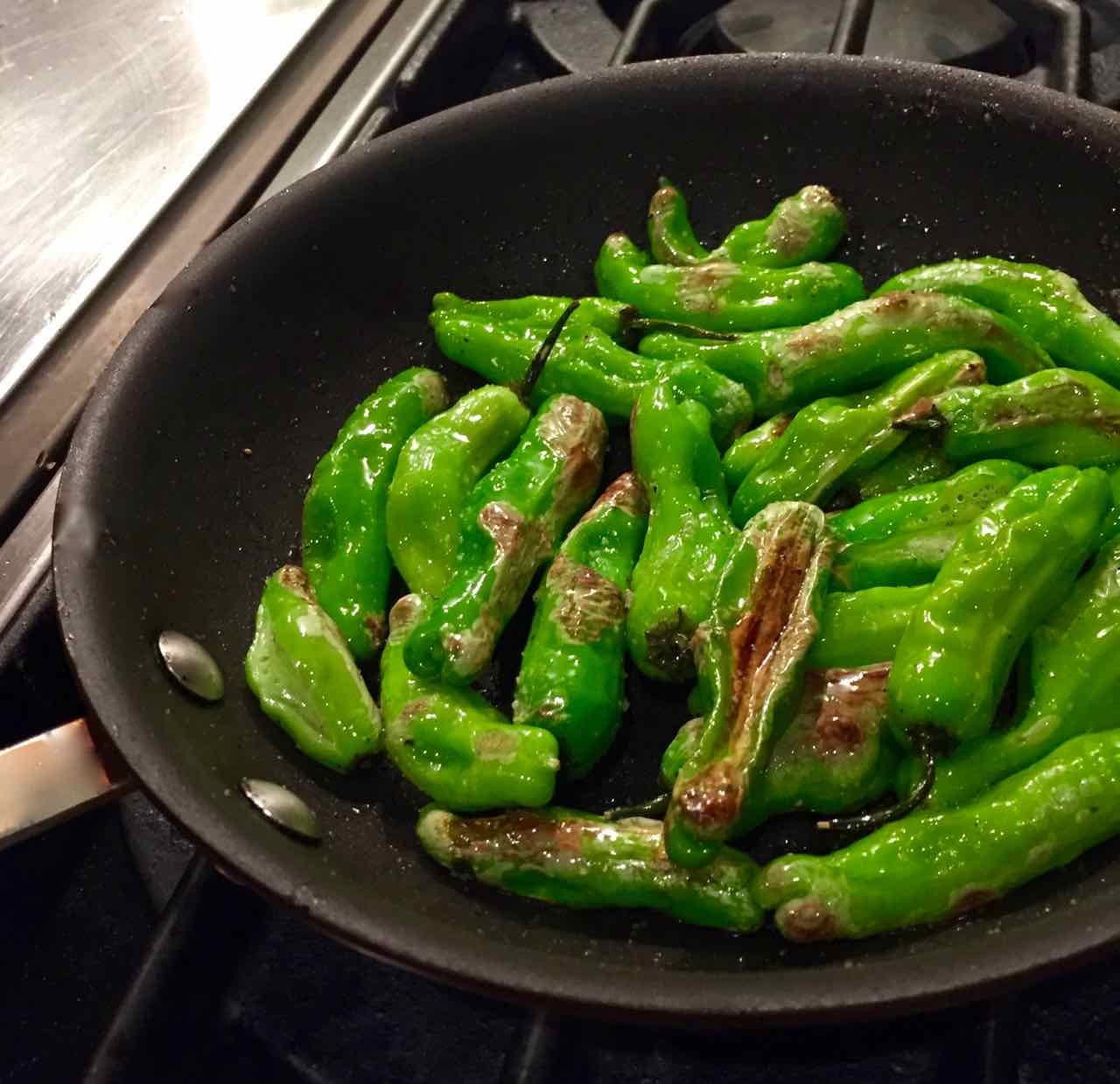 Happy New Year, all.  Hope your 2106 is filled with good food, fun and family.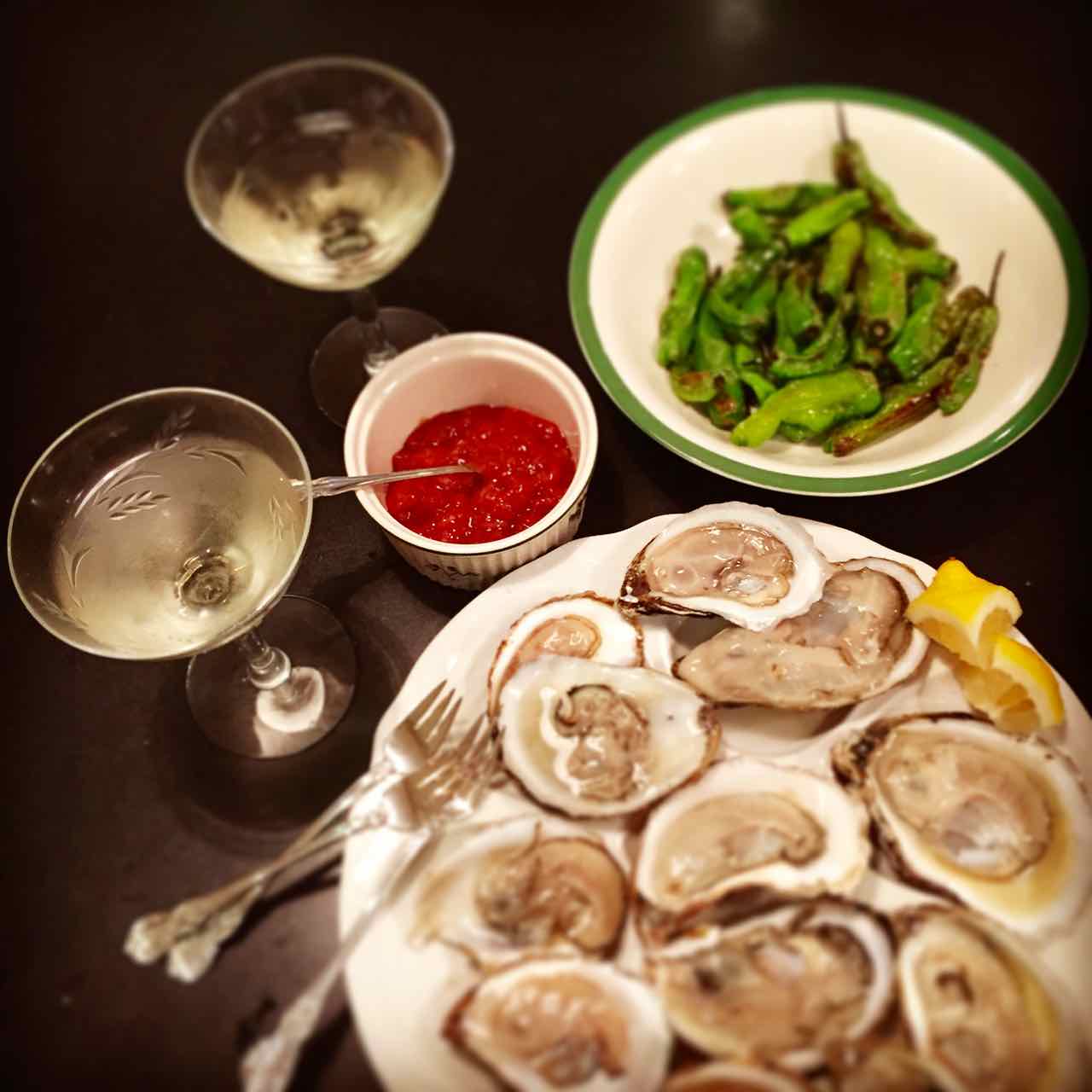 Standing Rib Roast with a Cabernet Peppercorn Sauce
The same cut that rib-eye steaks come from, with the bone and left in one big piece.  "Standing" because it stands on the ribs when cooking- no rack required!  There's controversy over how best to cook  – low and slow vs. high and fast.  I had a smaller cut – just 2 bones – so I went with a fast method.  For a larger cut I might go the other way.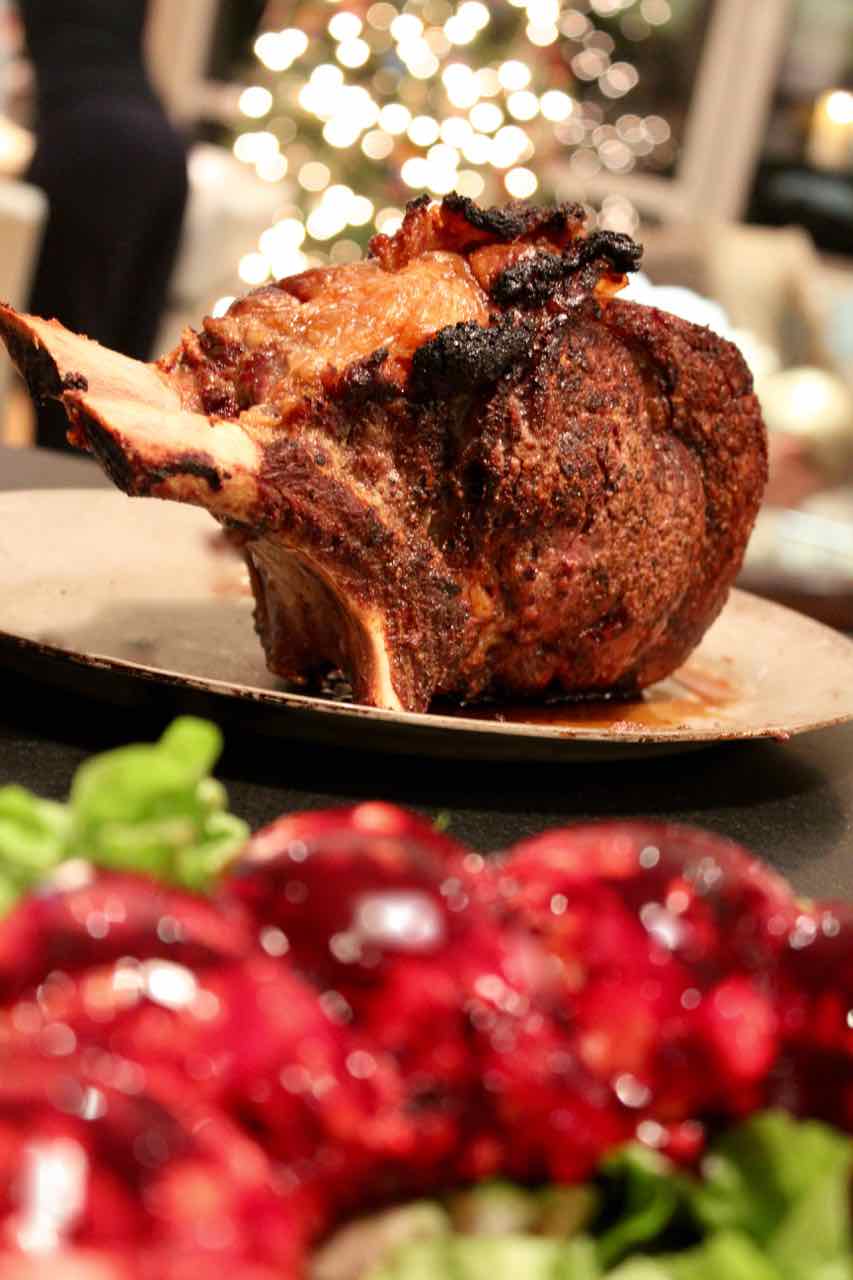 Rub with plenty of salt, pepper and garlic powder.  Sear with a touch of oil in a hot pan 4 mins a side- then into 425° oven until internal temp hits 125°.  This one took about 35 mins.  Remove from oven and let rest at least 20 mins before service.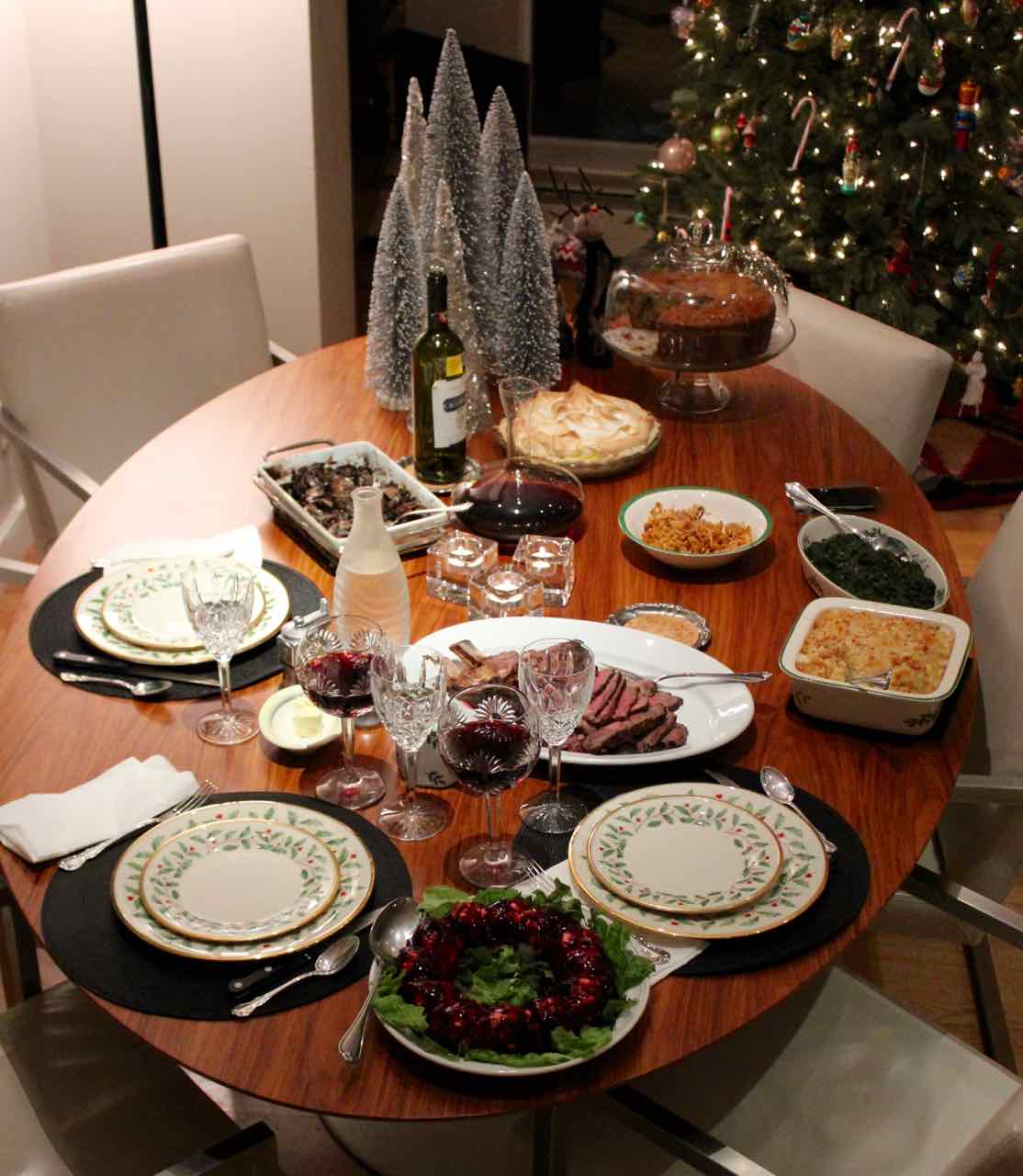 For the sauce – sauté chopped shallot and celery in a bit of butter with S&P, flambé with a shot of brandy or cognac.  Add in 2 parts stock (chicken or beef) with one part red wine, reduce with a bundle of thyme, a bay leaf, some green peppercorns and a smashed garlic clove.  Before service, strain out solids, add a touch of cream and some of the pan drippings from the roast.  Thicken with a slurry of stock and cornstarch if you want a little more body.
Fresh Egg Pasta with Sage Browned Butter
Fresh pasta – easier than expected.  Particularly when you have the kid make it.   Flour – two cups.  Eggs – two whole plus four yolks.  A good pinch of salt.   Make a well with the flour – eggs and salt in the middle. Beat with fork, slowly incorporate.  Knead a few times once it comes together.   Wrap it up and let rest in the fridge for a few hours.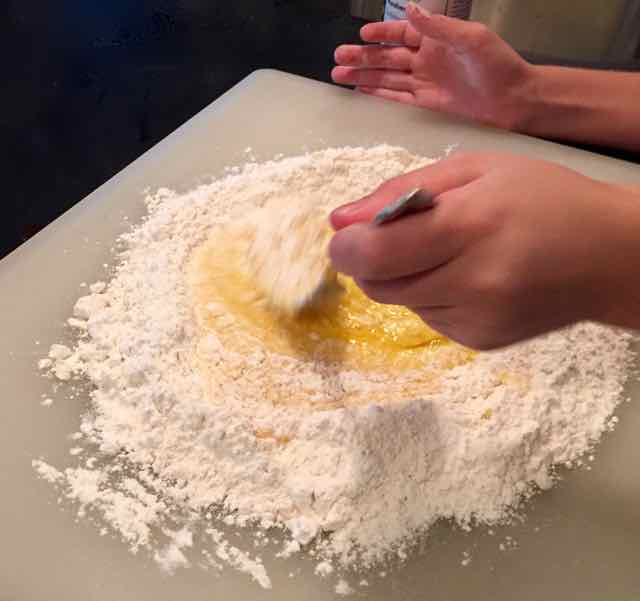 Cut in quarters.  Roll out a bit, dusting with some flour.  Send through pasta machine's thickest setting a couple times, then fold the ends into the middle and do it again.  This helps keep the shape right.  Now crank through the successively thinner settings.  Roll into a log and slice to desired thickness  —  see that happen in this video on my Instagram. Set on a cookie sheet and cover with damp towel while you do the other quarters.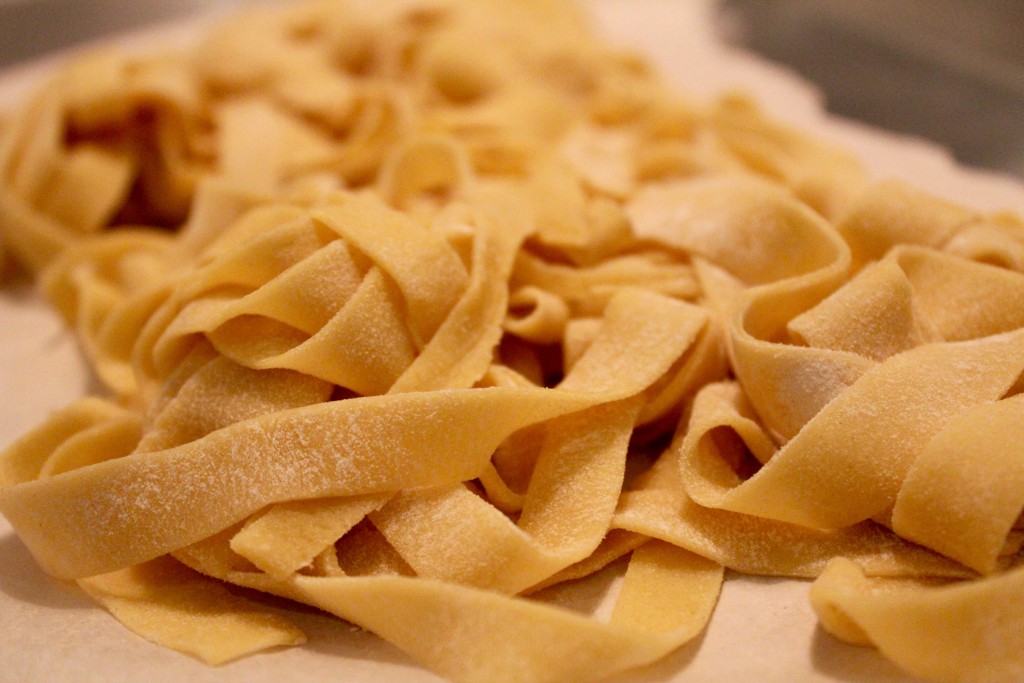 This cooks really fast. Brown some butter in a pan, keep warm.  Pasta into boiling salted water for just a minute or so, drain and toss with the brown butter on the stovetop.  Add some chopped fresh sage, cracked pepper and some crushed red pepper.  Then a good handful of grated parm, which plays the salt role.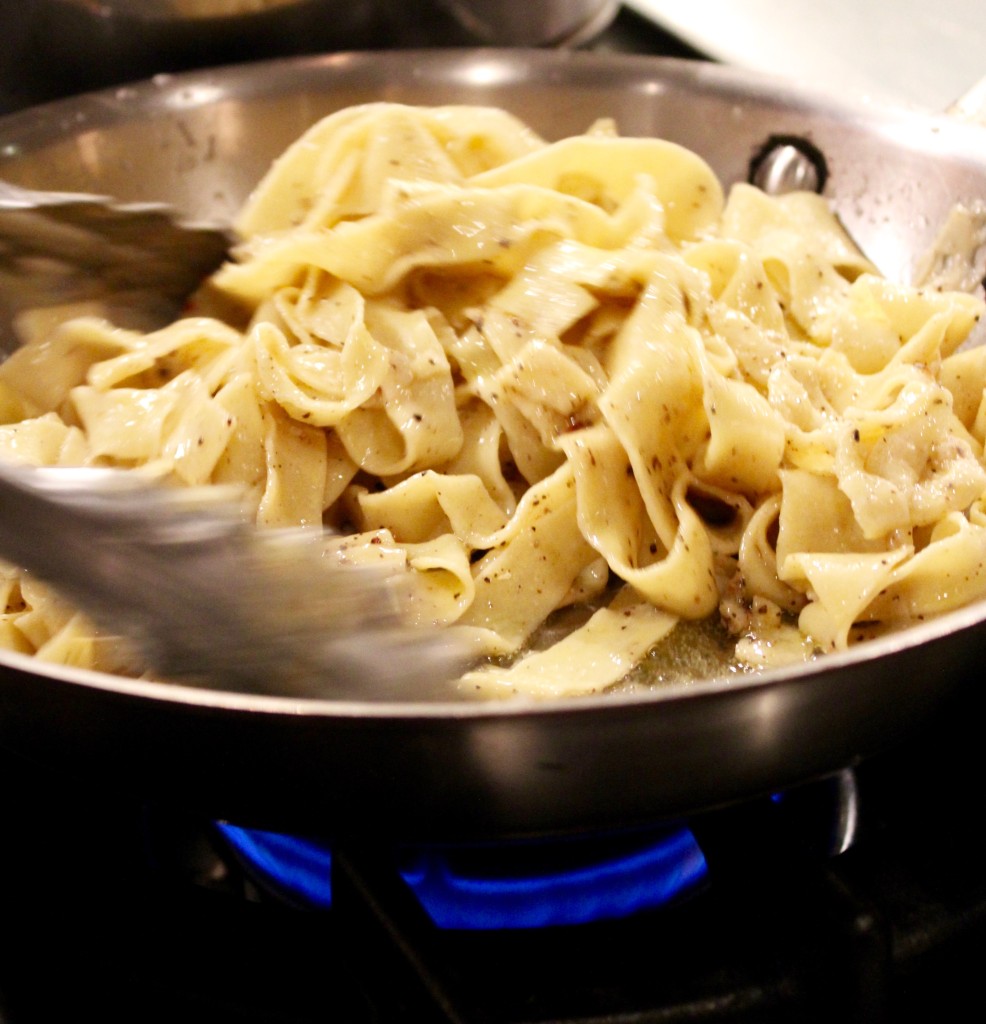 I serve this topped with some fried salted sage leaves, which I hide until service or they all disappear.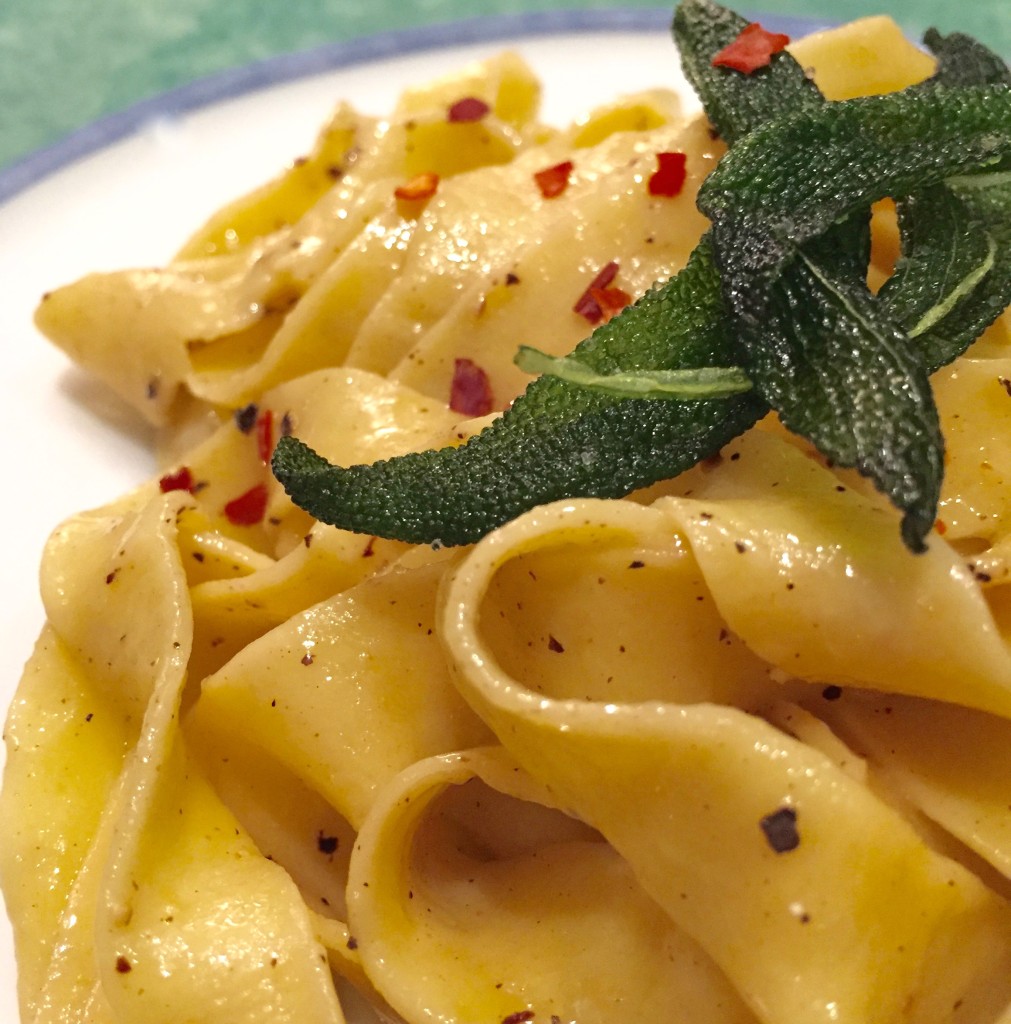 A fun dad/daughter kitchen project indeed.