Big Apple Tartlet
A little treat from leftover home-made apple sauce and an extra pie crust….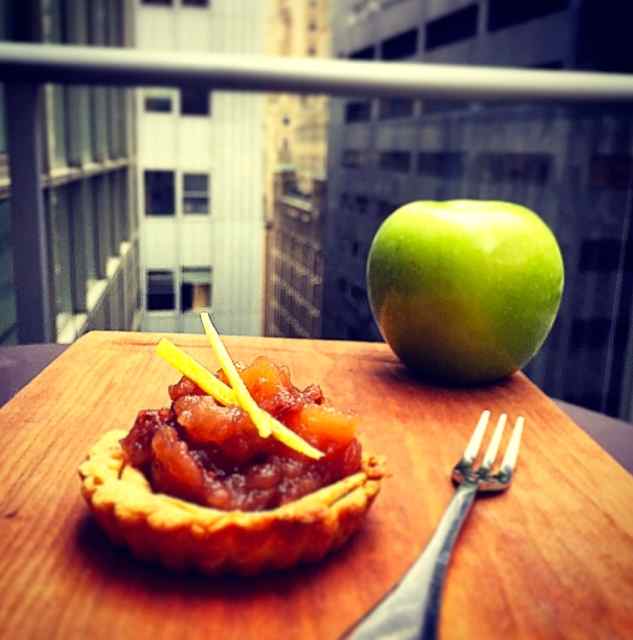 Three apples – all different kinds, which makes the texture interesting. Peeled, chopped.  Onto the stovetop with a knob of butter, a good squeeze of honey, and some ground ginger and cinnamon.  Let go on low for a while, then a nice pour of calvados and a squeeze of lemon.  Here I also added some chopped dried cherries which was nice.  Cook it all down, removing from heat while there's still noticeable chunks of apple.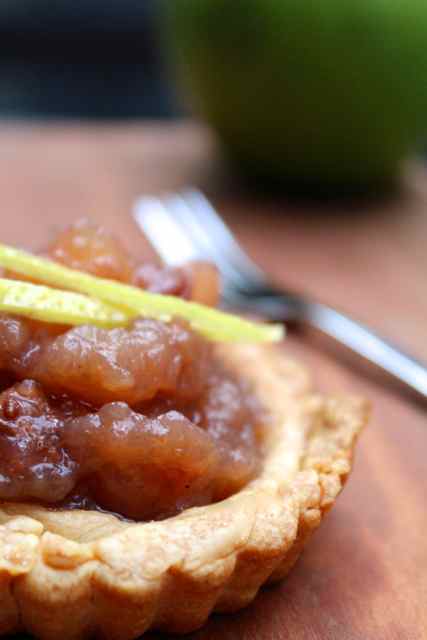 This is great with a nice roast pork.  Or, as here, a quick little filling for a tartlet.   
Crispy Polenta Cakes
A breakfast treat for sure.  Crispy polenta cakes- a little crunch outside, a little creamy inside…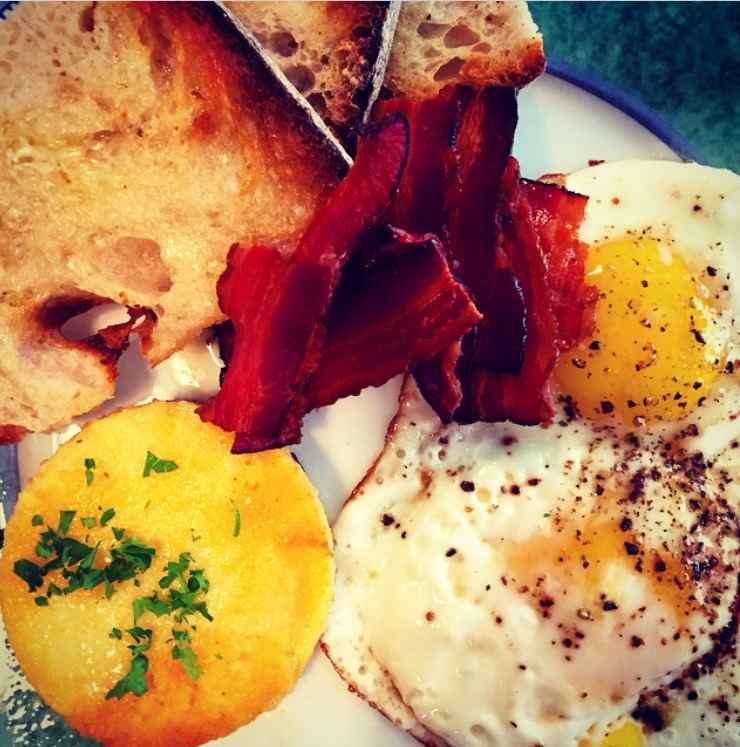 Three parts milk to one part coarsely ground cornmeal.  Milk heated with a knob of butter, some white pepper and sea salt.  Cornmeal poured in, lots of stirring.  Let go for a good 20 mins.  Beat in some heavy cream.  Maybe some grated cheese if you are feeling that.  Pour into a casserole dish and let chill.
When ready for your awesome fantastic brunch, cut up the chilled polenta into squares, circles or unicorns.  Into hot non-stick with a pour of olive oil.  Crisp and flip, crisp and serve.  Hey polenta.  How you doin'
Jo's Crispy Skin Salmon
Crispy skin salmon filets, over garlicky hummus and sautéed greens.   Some toasted slivered almonds for another layer of crunch.  And that flavor-of-the-moment, smoked paprika….   Courtesy of good friend Jo, who nailed this dish in all of 18 minutes.   Pic below is a tribute re-make at our place the following week: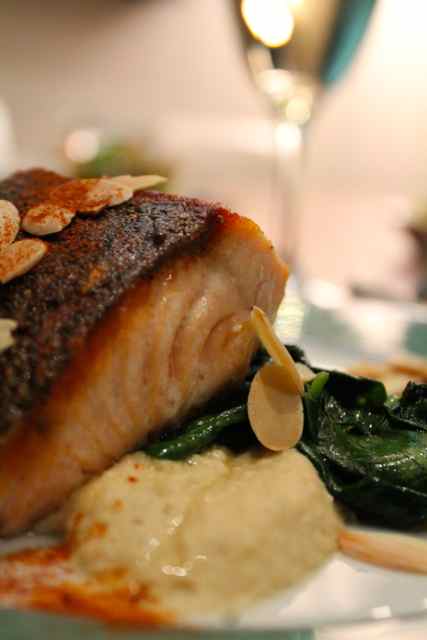 For that perfect crispy skin, heat a non-stick pan with a good pour of olive oil.  Pat dry and season salmon filets with S&P, sear skin side down 5 or 6 mins, flip for 3 or 4.  
Serve this dish right now.  I'm doing it again tomorrow.  
p.s. the only thing better than throwing a good dinner party is going to someone else's.  And click here for a link to my Instagram of Jo's actual dish that night.